MESSAGE FROM THE CHAIRMAN'S DESK
Dear Aspirants,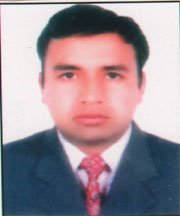 Welcoming by virtue of having experienced faculty and infrastructure, we're administering a dynamic setup suited to the challenging needs of the society. Our aim is to provide value enriched high quality education at affordable cost & enhance intrinsic ability to our students by grooming their personalities.
I, as a Chairman, want my students to become problem solver in the world & not simply the facility enjoyer. They should learn & inculcate the "busy bee" pleasure.
I wish that Deepanshu College Of Professional Studies would become a real institution for quality education in the near future & role model for other institution in the state of Uttar Pradesh.
My Message would be incomplete without complementing my faculty staff which is working very hard to achieve global quality standards. Hope you're joining to us will be fruitful & memorable.
I wish you a great success in life.
CHAIRMAN
(Gajendra Singh Pundir)